The Jugglers are coming... again!
Having achieved a great success 7 years ago, Karlsruhe hosts once again the European Juggling Convention, and so the 31st EJC 2008 welcomes artists and visitors for more than a week to the world largest juggling festival.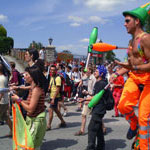 In August 2008, more than 3.000 jugglers and artists will perform at the festival park, Günther-Klotz-complex, Karlsruhe, and add some colorful air to Karlsruhe´s atmosphere. All day long, for nine days, professionals and amateurs will join for training, workshops, shows and games or simply for having fun - as always peaceful whilst leaving cultural and linguistic barriers behind. No matter whether you are a paying convention participant or a non-paying visitor who likes a glimpse on the bustling scene - there will be entertainment for everybody!
In the first place, this page is addressed to visitors of, or people interested in the convention who do not participate actively. For jugglers, there is further information available on a separate homepage:
www.ejc2008.de
.
---